Give Your Child The Support They Deserve
Childhood is one of the shortest yet most valuable stages of life. People often wish their childhood had lasted longer or gone differently. When your children are young, you have the best opportunity to raise them up to a successful future. You want them to have every advantage and opportunity in life. However, this is difficult when you are a single parent who lacks the financial resources to give your child the support they deserve.
The law entitles you to child support or requires you to pay it for a number of reasons. For example, you may have a child with someone you have not married. Let's say you have decided not to raise the child together. In that case, the parent who does not primarily care for the child must pay child support. You may have been through a divorce and you have primary custody of your child. As a result, the law entitles you to child support from your ex-spouse. Like it sounds, child support ensures that both parents properly care for their child if they are not raising him/her in the same household in equal amounts. Grady County child support attorneys at Wirth Law Office – Chickasha understand the workings of child support and can answer your questions.
Oklahoma Child Support Calculator
If you're wondering how child support is calculated, it is primarily based on the income of the parents. Other factors include the amount of time each parent contributes to raising the child. First, the court combines the adjusted gross income of both parents. Then the court determines whether the parents are supporting other children, the amount of time the child spends with each parent, any other support payments the parents have, and the cost of insurance and daycare. Using that information, they come up with an amount that both parents must contribute to supporting their child.
The parent who does not have primary custody of the child, known as the non-custodial parent, must make child support payments to the other parent. Whether you're giving or receiving, Grady County child support attorneys can represent you to make the process easier.
Collecting Delinquent Child Support Payments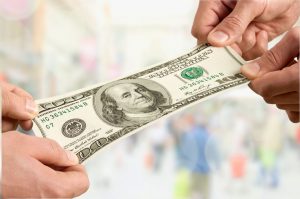 If the non-custodial parent does not make their Grady County child support payments on time, they are considered delinquent. The state usually collects these payments through that parent's wages. This is an income assignment. The Oklahoma Department of Human Services (DHS) or the local District Attorney handles Oklahoma child support enforcement. However, family law attorneys are also able to collect unpaid child support, and this is often the easiest way.
Unpaid delinquencies add up and eventually become part of a judgment. There are also steep interest rates for unpaid child support. If the non-custodial parent refuses to pay, they could spend up to six months in jail and pay up to $500 in fines. Other punishments include losing their driver's license and having other licenses denied or suspended.
The consequences of not paying child support are far worse than any perceived downsides to making payments. It is significantly easier to pay child support than it is to deal with delinquencies. If you don't want payments taken directly out of your paycheck, or you don't want to risk fines and jail time, the best thing to do is make your payments in full and on time.
If you are not receiving the child support payments you deserve, your best course of action is to hire an Oklahoma child support attorney to collect them for you. Let the Grady County child support attorneys at Wirth Law Office worry about it for you, so you have more time and energy to spend on your child while they're still young.
You may feel that the amount you must pay causes an unfair burden on you financially. If this is the case, you can file for a child support modification.
Child Support Modifications
Certain situations might merit a modification to your child support. Oklahoma child support laws allow for modifications when:
the existing child support order does not contain an order for medical support
the existing child support order was not calculated according to the Oklahoma Child Support Guidelines
there will be at least a 20% change in the calculated amount of child support to be paid
there are significant changes in the circumstances of the child or parents
Some examples of significant changes are an increase or decrease in the child's needs or the parents' income, a medical disability, cost changes in caring for the child, and custody changes. If you are not receiving enough child support, or you believe your payments are an undue financial burden, you can request a child support modification.
The Grady County child support attorneys at Wirth Law Office – Chickasha want to protect your child's interests. Nothing is more important than their future. Like you, we believe your child needs financial preparation for success. If you feel that you aren't receiving the compensation you deserve, or you feel that you are being required to pay too much, our child support attorneys will help you determine the best avenue for the best results. We understand the facts and conditions that require a child support modification, and we know the best way to present them to the court.
Free Consultation with Grady County Child Support Attorney
Whether you need assistance with child support payments or modifications, Grady County child support attorneys at Wirth Law Office – Chickasha can help you help your child. You shouldn't have to stress about your child's financial security. Make sure your child is getting what they deserve without causing a strain on your finances. The easiest way to ensure that you receive payments and get modifications is to hire a child support attorney from Wirth Law Office. You have your child's best interests at heart, and we fight to protect them. For a free consultation, call us today at (405) 272-4100 or fill out the form at the top of this page.